GENIUS is the best Solar Water Heating Solution by using the latest technology which meets your water heating needs even in the hardest water conditions, without the worry of corrosion, leaks or blockages.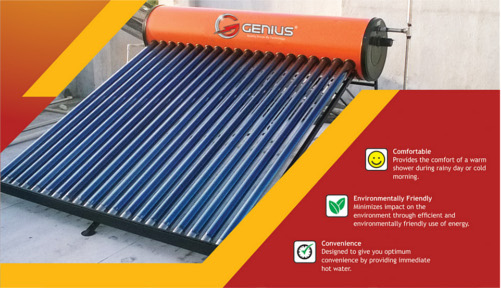 ---
Solar water Heater - Domestic
ETCs are the absorber of the solar water heater. They absorb solar energy converting It into heat for use in water heating. We provide Vacuum Tube High Efficiency Solar Collectors with PUF insulated Solar Water Tanks. These tanks are also equipped with Assistant Tanks to prevent Hot and Cold water mixing, hence increasing the efficiency of the systems. All our systems come with PUF Insulated High Grade Stainless Steel for the inner tanks with the external tanks being powder coated/Stainless Steel for increased life. Our systems come with 5 year's replacement guarantee and 15 years warranty for the Vacuum Tubes. Range: 100LPD to 500LPD
Product Model :Powder Coated & Stainless Steel
Features
No scale formation
No pipe blockage
High density compressed PUF Insulation to store hot water for upto 48 hrs.
Specifications
Tube Specifications - 47-1800mm or 58-1800mm
Inner Tank Material - Stainless Steel L grade 304
Tank Insulation - PUF 50mm
Warranty : 5 Years & 10 Years
---
Genius ETC - Technical Specification
| | |
| --- | --- |
| Tank Capacity | 100 / 150 / 200 /250 / 300 /500 LPD |
| Inner Tank | Stainless Steel 304 - L / Copper / MS |
| Inner Tank Welding | Seam Welding/Gas Brasing |
| Outer Tank Material | Stainless Steel/Coated Sheet |
| Tank Side Dish | Aluminum Powder Coated |
| Solar Collector | Evacuated Tube Collectors |
| No of Tubes | Vary based on capacities |
| Collector Tube Seals | Specially designed seals made of silicone rubber |
| | |
| --- | --- |
| Backup Heater | Provided (Optional) |
| Insulation | PUF - 50 MM |
| Supporting Structure | MS Powder Coated |
| Type of Circulation | Thermosyphon |
| Tube Length | 1800 mm |
| Vacuum Tube Outer Diameter | 58 mm |
| Temperature | 65 degree C to 85 degree C |
| Type of Fasteners | Stainless steel/Galvanized |