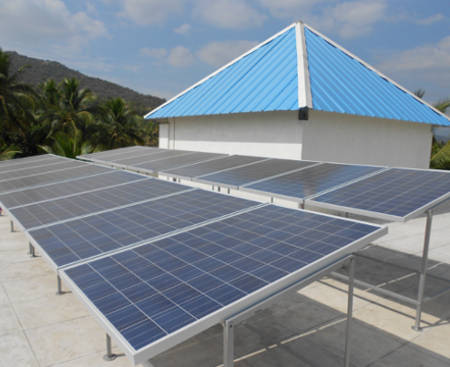 There are basically two solar PV systems:
Solar Off grid(stand-alone)
Solar Off grid(stand-alone) solar PV systems work with batteries. The solar energy is stored in the battery and used to feed building loads after conversion from DC to AC power with a stand-alone inverter.
---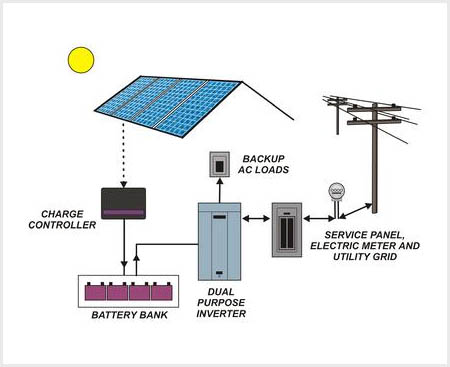 Solar On grid (Grid Connected)
Solar On grid(Grid Connected) solar PV systems feed solar energy directly into the building loads without battery storage. Surplus energy, if any, is exported to the grid and shortfall, if any, is imported from the grid.
A Solar Grid-tied inverter converts the DC output of PV modules into AC power suitable for transmission on the owner grid, or uses it for your own consumption, often deploying reactive power to meet new grid codes. It must always optimize the power output via MPPT (maximum power point tracking) and additionally monitor both the system and grid connection. In practice, each solar inverter installed in solar power plants needs to connect an array or string of PV modules to the power grid.
Type of Solar Cells: Mono / Poly Crystal Line
Inverter : PCU
Wave Form : Sine Wave
Battery Type : Tubular / C10 Rating
Charging Hour : 5 - 6 Hours
Operating Volts : 230 Volt AC
Mounting Structure : MS Painted
Interconnecting Wires : Provided
---
Solar Off Grid (stand-alone)
Solar Power Conditioning Unit (PCU) is an integrated system consisting of a solar charge controller, inverter and a Grid charger. It provides the facility to charge the battery bank either through Solar or Grid. The PCU continuously monitors the status of Battery Voltage, Solar Power output and the loads. Due to sustained usage of power, when the Battery Voltage falls below a preset level, the PCU will automatically transfer the load to the Grid/DG power and also charge the Batteries through the in-built Grid Charger. Once the Batteries are charged to the preset level, the PCU cuts off the Grid from the system and will restore to feeding the loads from the battery bank & continue to charge the battery bank from the available Solar power.
Type of Solar Cells: Mono / Poly Crystal Line
Inverter : PCU
Wave Form : Sine Wave
Battery Type : Tubular / C10 Rating
Charging Hour : 5 - 6 Hours
Operating Volts : 230 Volt AC
Mounting Structure : MS Painted
Interconnecting Wires : Provided